West End Estates: The St. Henry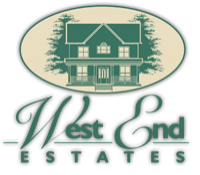 Storage should not be a problem since each bedroom has a huge closet. There are also two closets on the first floor as well as a spacious laundry room. The turned staircase and standard bay window in the dining room offers oodles of charm. The low maintenance exterior invites you in by way of the traditional front porch.
Special Comments:
10 year tax abatement!
Floor Plans
Click thumbnails to view the larger version. Mouse over the arrows on the floor plan to see a picture taken from that spot. Click the arrow to see the full sized picture.
Other Plans Available at West End Estates
| Plan | Style | Beds | Baths | Square Footage | Base Price |
| --- | --- | --- | --- | --- | --- |
| The Tower Grove | 1½ Story | 4 | 2.5 | 2,406 sq. ft. | $355,100 |
| The Randal II | 1½ Story | 5 | 3.5 | 2,832 sq. ft. | $319,400 |
| The Randal | Two Story | 5 | 2.5 | 2,752 sq. ft. | $310,300 |
| The Clay | Two Story | 3 | 2.5 | 2,322 sq. ft. | $289,800 |
| The Porter | Two Story | 4 | 3 | 1,848 sq. ft. | $271,400 |
| The Fowler | Two Story | 3 | 2.5 | 2,040 sq. ft. | $270,000 |
| The Mansion - End Unit | Two Story | 3 | 2.5 | 1,937 sq. ft. | $269,100 |
| The Rivers | Two Story | 3 | 2.5 | 1,720 sq. ft. | $266,200 |
| The Mansion - Middle Unit | Two Story | 3 | 2.5 | 1,716 sq. ft. | $262,500 |
| The LaSalle | Two Story | 3 | 2.5 | 1,456 sq. ft. | $204,300 |
| The Charless 'B' | Two Story | 3 | 2.5 | 1,650 sq. ft. | $180,000 |
| The West End Ct A | Two Story | 3 | 2.5 | 1,659 sq. ft. | $179,000 |
*Optional additional bedroom available (lot permitting)