Boulevard Heights: The Tower Grove
The sought after model relocated from our historic Gas Light Square. The ever desirable main floor master suite and potential featured deck off dining room, with second floor loft overlooking an 18' ceiling living room makes this prestigious model a hit.
Special Comments:
Our flagship!
Floor Plans
Click thumbnails to view the larger version. Mouse over the arrows on the floor plan to see a picture taken from that spot. Click the arrow to see the full sized picture.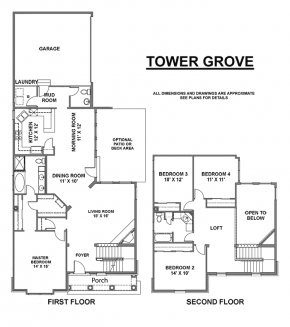 Other Plans Available at Boulevard Heights
| Plan | Style | Beds | Baths | Square Footage | Base Price |
| --- | --- | --- | --- | --- | --- |
| The Armand | Two Story | 3 | 2.5 | 1,564 sq. ft. | $289,400 |
| The Bridgeport | 1½ Story | 4 | 2.5 | 2,489 sq. ft. | $361,100 |
| The Carondelet | Two Story | 2* | 2.5 | 1,216 sq. ft. | $213,300 |
| The Compton | 1½ Story | 3 | 2.5 | 1,655 sq. ft. | $285,500 |
| The Hampton | Ranch | 3* | 2 | 2,100 sq. ft. | $358,400 |
| The Kingston | Two Story | 3 | 2.5 | 1,920 sq. ft. | $303,400 |
| The Marquette | Two Story | 3* | 2.5 | 2,304 sq. ft. | $295,100 |
| The Newport - End Unit | Two Story | 3 | 2.5 | 1,937 sq. ft. | $272,800 |
| The Newport - Middle Unit | Two Story | 3 | 2.5 | 1,738 sq. ft. | $258,750 |
| The Providence | Two Story | 5 | 2.5 | 2,752 sq. ft. | $341,100 |
| The Providence II | 1½ Story | 5 | 3.5 | 2,832 sq. ft. | $350,000 |
*Optional additional bedroom available (lot permitting)