Boulevard Heights: The Providence II
The largest model available at Boulevard Heights is the Providence II a five bedroom home. It has all the goodies of a true luxury home, open floor plan impressive kitchen, deluxe master bath large bedrooms great laundry locations and two-story open foyer. With ample space for two cars in the rear entry detached garage.
Special Comments:
First Floor master suite!
Floor Plans
Click thumbnails to view the larger version. Mouse over the arrows on the floor plan to see a picture taken from that spot. Click the arrow to see the full sized picture.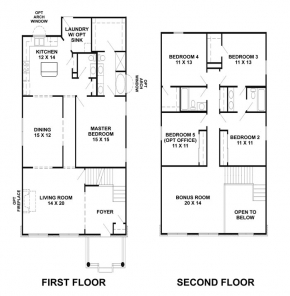 Other Plans Available at Boulevard Heights
| Plan | Style | Beds | Baths | Square Footage | Base Price |
| --- | --- | --- | --- | --- | --- |
| The Tower Grove | 1½ Story | 4 | 2.5 | 2,406 sq. ft. | $388,900 |
| The Bridgeport | 1½ Story | 4 | 2.5 | 2,489 sq. ft. | $361,100 |
| The Hampton | Ranch | 3* | 2 | 2,100 sq. ft. | $358,400 |
| The Providence | Two Story | 5 | 2.5 | 2,752 sq. ft. | $341,100 |
| The Kingston | Two Story | 3 | 2.5 | 1,920 sq. ft. | $303,400 |
| The Marquette | Two Story | 3* | 2.5 | 2,304 sq. ft. | $295,100 |
| The Armand | Two Story | 3 | 2.5 | 1,564 sq. ft. | $289,400 |
| The Compton | 1½ Story | 3 | 2.5 | 1,655 sq. ft. | $285,500 |
| The Newport - End Unit | Two Story | 3 | 2.5 | 1,937 sq. ft. | $272,800 |
| The Newport - Middle Unit | Two Story | 3 | 2.5 | 1,738 sq. ft. | $258,750 |
| The Carondelet | Two Story | 2* | 2.5 | 1,216 sq. ft. | $213,300 |
*Optional additional bedroom available (lot permitting)