West End Estates: The Porter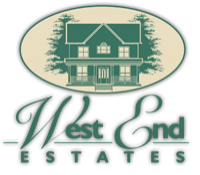 The Porter at West End Estates, a stunning and vivid 4 bedroom and 3 full baths with a second floor laundry, offers a new design to this model. This home showcases classic architectural designs and an exclusive home design. Convenient to fine dining, shopping, entertainment, major travel routes leads you to an elegant lifestyle in your new CF. Vatterott home.
Floor Plans
Click thumbnails to view the larger version. Mouse over the arrows on the floor plan to see a picture taken from that spot. Click the arrow to see the full sized picture.
Other Plans Available at West End Estates
| Plan | Style | Beds | Baths | Square Footage | Base Price |
| --- | --- | --- | --- | --- | --- |
| The Charless 'B' | Two Story | 3 | 2.5 | 1,650 sq. ft. | $169,900 |
| The Clay | Two Story | 3 | 2.5 | 2,322 sq. ft. | $284,100 |
| The Fowler | Two Story | 3 | 2.5 | 2,040 sq. ft. | $264,750 |
| The LaSalle | Two Story | 3 | 2.5 | 1,456 sq. ft. | $200,290 |
| The Mansion - End Unit | Two Story | 3 | 2.5 | 1,937 sq. ft. | $264,100 |
| The Mansion - Middle Unit | Two Story | 3 | 2.5 | 1,716 sq. ft. | $257,400 |
| The Randal | Two Story | 5 | 2.5 | 2,752 sq. ft. | $304,230 |
| The Randal II | 1½ Story | 5 | 3.5 | 2,832 sq. ft. | $313,100 |
| The Rivers | Two Story | 3 | 2.5 | 1,720 sq. ft. | $260,970 |
| The St. Henry | Two Story | 3* | 2.5 | 1,624 sq. ft. | $232,410 |
| The Tower Grove | 1½ Story | 4 | 2.5 | 2,406 sq. ft. | $348,135 |
| The West End Ct A | Two Story | 3 | 2.5 | 1,659 sq. ft. | $169,900 |
*Optional additional bedroom available (lot permitting)